Tuition Information
TUITION RATES 2018-2019
Mid High Tuition - $8,100
High School Tuition - $9,350
Multi-Student Discount: For the second student enrolled, tuition decreases by $1,000, for the third student enrolled tuition decreases by $1,200.
ADDITIONAL FEES
Application Fee: $125 (For new students only)


Comprehensive Fee: $425
This fee is due at the time of enrollment or re-enrollment. The comprehensive fee covers the cost of textbooks, bus transportation, technology, yearbook, activities (student government and retreats), student athletic event admission and locker usage.

This fee is refundable only under the following circumstances: families applying for tuition assistance may have the comprehensive fee refunded if, within five days of the notification of aid, the student elects not to enroll for the upcoming academic year.
Each student who participates in mid-high or high school athletics will be charged a fee.
First Sport: $125 ($175 for high school football)
Second Sport: $75
Third+ Sport: FREE
Student Cap: Two athletic fees per student per year
Family Cap: Four athletic fees per family per year
TUITION ASSISTANCE
Blanchet Tuition Assistance applications must be submitted to FACTS by March 15, 2019 in order to be included in the first round of assistance awards. Assistance letters will be mailed by April 12, 2019 for the first round of awards.
INTERNATIONAL STUDENTS
Please contact Blanchet's agent, the English Language and Culture Institute (ELCI), for information about applying to Blanchet Catholic School.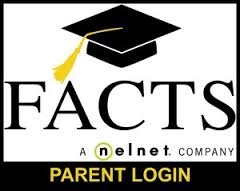 ADMISSIONS
IMPORTANT DATES
August 24, 2018
Late application due date
August 30, 2018
New Student Orientation
5:30 p.m. (Lee Student Center)
January 25, 2019
Re-enrollment packets emailed home

March 1, 2019
Online re-enrollment due date
Comprehensive fee due date
March 15, 2019
Tuition assistance applications
due date
* Award letters will be sent on
April 12, 2018
March 10, 2019
Open House
2:00 p.m. - 4:00 p.m.
June 28, 2019
FACTS Tuition Payment Plan Due Date
June 30, 2019
Full tuition payment discount due date