2020 Student Raffle Begins
October 28, 2020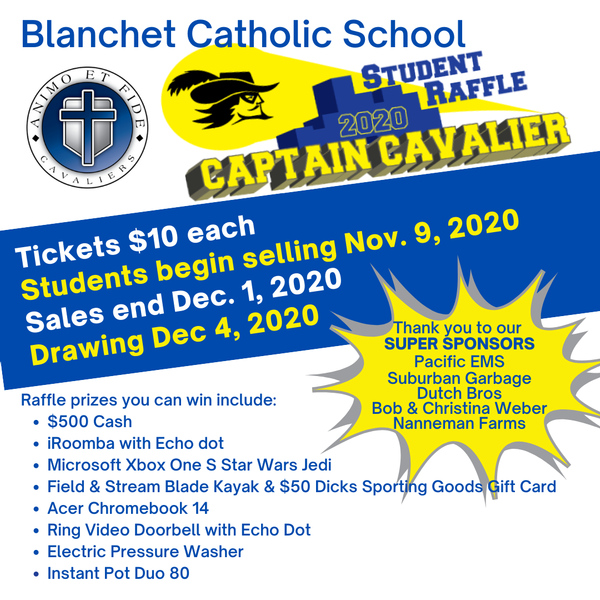 The Blanchet development team works with student leadership to plan a Student Raffle each year! This is the 17th year of Blanchet's Student Raffle fundraiser and our theme is "Captain Cavalier's Student Raffle". Our goal is to raise $48,000 for Blanchet programs and students such as New Student Orientation, CAV Spirit Day, Class Retreats, Grandparents Day, and many more. Tuition alone does not cover the cost to educate a student and these fundraisers like the raffle and are crucial in continuing Blanchet's day-to-day operations as well as support our student programs.
Student participation in this fundraiser is required and encouraged. We offer incentive prizes for students to sell tickets. Although each student is only required to sell 10 tickets, we encourage students to sell as many tickets as possible to support the school and earn prizes. The more they sell, the more they can earn.
When you purchase a Blanchet Student Raffle ticket, you are entered into a drawing for a chance to win one of the prizes listed below. The drawing for the prize winners will be held on Friday, December 4, 2020, at 8:45 a.m. via a live video. Winners need not be present to win.
2020 Raffle Prizes include:
$500 Cash
iRoomba with Echo dot — value: $350
Microsoft Xbox One S Star Wars Jedi — value: $299
Field & Stream Blade Kayak & $50 Dicks Sporting Goods Gift Card (Value $279)
Acer Chromebook 14 — value: $240
Ring Video Doorbell with Echo Dot — value: $199
Electric Pressure Washer — value: $155
Instant Pot Duo 80 — value: $140