October 31, 2023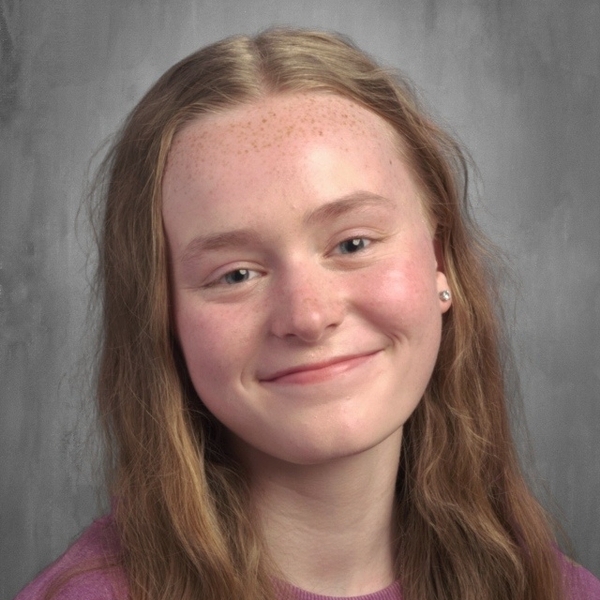 Last summer, several Blanchet seniors participated in a variety of academic internship programs. Internships can be a great opportunity to gain valuable work experience and explore potential career paths. By participating, seniors can build their professional network, develop important job-related skills, and gain a better understanding of the industry they wish to pursue. They may also provide seniors with a competitive edge when applying for jobs or college admissions. We'd like to share information about some of the internships with the Blanchet community.
First is Blanchet senior, Sophie Schindler. Sophie participated in the Notre Dame Summer Program. Sophie said, "Over the summer, I took an English Literature course with the University of Notre Dame. I applied in October of last year, and a couple of weeks later, I found out I had been accepted! The course was named Hope and Faith in the Age of Dystopia, which I had been very excited to see on the list of available courses, as dystopian books are some of my favorites. The class was online, two weeks long, and about five hours a day, and I loved every minute of it! We did presentations, wrote our own endings of books, had deep discussions, and learned how to think critically about literature. Because the course was online, people could participate from all over the world. Now, I have friends in Cincinnati, Texas, China, and Egypt! I am so grateful I took this course, not only because I earned college credit, but because I learned how to approach life with a hopeful lens."
February 27, 2023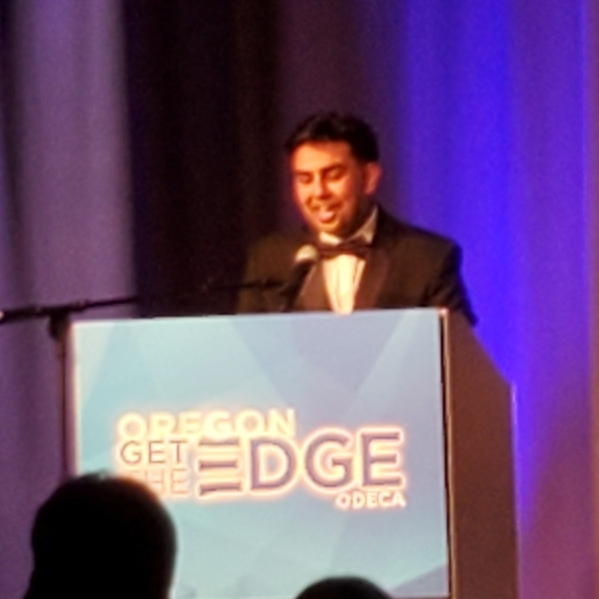 Blanchet's DECA mission statement is "to give all members the ability to grow in an honest and challenging environment." DECA is primarily a co-curricular activity where students learn to conduct marketing research projects, promotion plans, and start-up businesses, and encounter realistic workplace challenges. The experience-based activities require students to use both basic and higher academic skills such as writing, math, economics, social science, communication, presentation, research, and data analysis.
The pinnacle of Oregon DECA is the State Career Development Conference (SCDC). Nearly 1,000 students from all over Oregon attend to compete for an opportunity to advance to the International Career Development Conference (ICDC). Aside from competition, this three-day conference includes many networking opportunities, leadership sessions, and a chance to create lasting friendships among chapter members.
Reaching a membership milestone this year with 72 Cavaliers in Blanchet's DECA chapter, the students underwent a season of practices and a district competition held at Blanchet to prepare them for the state competition. Blanchet then took our largest contingent ever, over 49 students, to the 3-day DECA SCDC conference in Portland. At the state championships, six of our students earned guaranteed spots at ICDC; they are Tanveer Singh, Nhi Huynh, Paola Diaz-Hermosillo, Holden Prine, Max Quintero, and Koren Ickes-Amend. Blanchet's Community Outreach Project, The Open Minded Project, led by Paola, Tanveer, and Nhi, earned a first-place spot that will take them to ICDC! Holden Prine and Max QUintero also stood atop the podium with their business development project for a total of five Cavalier state champions at this year's SCDC!
More honors were also earned as twenty Cavaliers finished in the top 10 in the state of Oregon in their respective competitions, ten Cavaliers placed 4th through 8th in their events and were honored with a medal, and thirty-eight placed in the top 25 competitors for their event(s) at SCDC! Over twenty Blanchet students placed in multiple events and eight new Cavalier DECA members placed in their principle (novice) events!
Additionally, thirteen Cavaliers qualified for nationals and will attend ICDC from April 21 to 26 in Orlando, Florida. The Cavalier contingent to Florida includes Elisabeth Fromwiller, Abby Webber, Holden Prine, Max Quintero, Claire Raffensperger, Raquelle Hendrix, Ben Alley, Nhi Huynh, Carter Mucken, Tanveer Singh, Brooklyn Ries, Grace Weber, and Koren Ickes-Amend.
We are also very proud to announce that Blanchet junior, Tanveer Singh, was re-elected as Oregon DECA"s President for 2023-2024. Oregon DECA officers are elected by their peers at SCDC and represent Oregon's membership. The State Officer team develops a program of work aligned to the strategic goals of DECA. Throughout the year, the team interacts with the membership to implement and enhance DECA programs. Congratulations to Tanveer as he represents Blanchet and the DECA community in this role!
January 06, 2023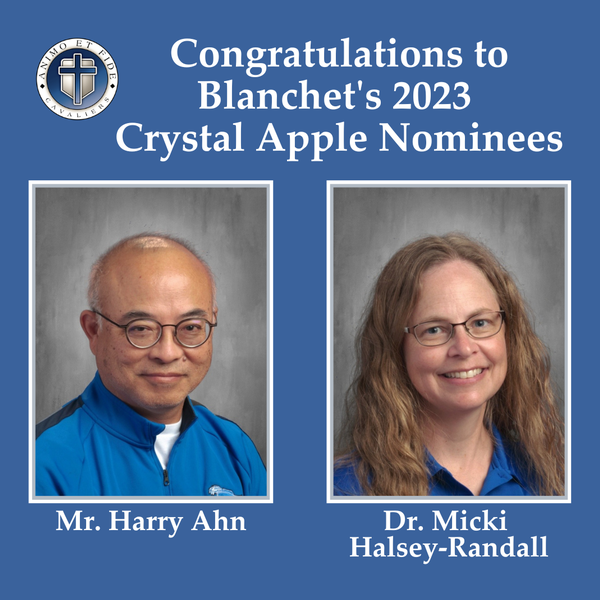 Blanchet is proud to announce that two of our teachers have been nominated for the prestigious Crystal Apple Award. This award, which has been on hiatus since before the pandemic, is given out to educators in the Salem-Keizer area who demonstrate excellence in their daily work. Blanchet's nominees for this year's Crystal Apple are Mr. Harry Ahn and Dr. Micki Halsey-Randall.
About Mr. Ahn
Mr. Ahn currently teaches seven classes a day at Blanchet in seven different subjects, including two levels of Calculus, an intro to Engineering class, a Great Books course, and other upper-level math classes. Teaching this many preps in one day is a rarity for any teacher, but Mr. Ahn has asked for and accepted this assignment because he knows the value of our students having access to two levels of Calculus and the other classes he teaches. A few years back, Mr. Ahn came to the administration and requested that we add an intro to Engineering class because so many of our students were graduating and pursuing an engineering degree in college. He wanted to give those students a head start on their path to that degree and he also believed that some students who took the intro class at Blanchet may discover that the engineering path was not for them, thus saving them time and money down the road. When we shifted to digital learning during COVID, Mr. Ahn quickly adjusted and began video recording all of his lessons. He was able to share these with students through email (he called it Ahn Academy as a play on the more recognized Khan Academy). Time and time again, Mr. Ahn has demonstrated that the success of his students both in and out of the classroom is his top priority. Students who take classes from Mr. Ahn, on many occasions for two periods a day, will often comment, "He is a very demanding teacher, but he cares a lot about us as students and people, and he is always there to help us if we are having problems understanding the content."
From the moment he arrives on campus shortly after 7:00 a.m., Mr. Ahn is here for students and ready to help them in any way possible. His classroom is often filled before school with students who need assistance with last night's math homework. Although most of these students are seeking help for a class that Mr. Ahn teaches, it is not unusual to see students asking for help in other math classes as well. Throughout the school year, students will seek his assistance in getting ready for a quiz, study for a test, or review a recent assignment to better understand the questions they missed. On multiple occasions, I have stopped by Mr. Ahn's classroom to see students working on problems on the board and explaining to the class how they came up with the correct answer. He challenges students to be leaders in and out of his classroom and demonstrates this in how he teaches his classes. Each spring when we forecast for classes for the upcoming year, he will chat with individual students to provide support and assistance in helping choose which classes they will take in the upcoming year. Mr. Ahn has the ability to motivate students to push themselves and take the classes that they will need after they graduate from Blanchet without directing them into classes that are too difficult for the student.
About Mrs. Halsey-Randall
Dr. Halsey-Randall has been a cornerstone of our science department at both the mid-high and high school levels for the past 15 years. Dr. HR, as the kids call her, is the consummate professional who pushes students to be their best in any class, program, or activity she leads. In the classroom, she has created curriculum, developed an outdoor learning environment, and overseen the introduction of our new mid-high science curriculum. In her 8th-grade science class, students take part in a hands-on research project that is focused on a scientific question or theory that can be explored, researched, and recorded. The presentations these students share with their class, parents, and community members demonstrate the deep level of understanding and learning that is involved with this cornerstone project. In the past few years, Blanchet adopted and implemented the Amplify science curriculum at our mid-high level. This new curriculum is more technology-based and hands-on for the students. It also aligns with the new national science standards. Dr. HR played a significant role in helping the school research different options for our curriculum, attended workshops to help understand the best way to implement the new material, and helped her fellow teachers as they incorporate the new curriculum into our classes.
In the past two years, Blanchet has established a CEI club on campus which is led by Dr. HR. CEI stands for Caretakers of the Environment International and the mission of the group is to exchange concerns, ideas, strategies, actions, and projects in the field of environmental education and to share environmental concerns. This group has grown to nearly 20 members and is one of only two CEI groups in the country. Under her guidance, the CEI group at Blanchet has completed many significant projects including removing asphalt in Blanchet's parking lot to plant trees (six trees total over two years), building the first part of our community garden which produced tomatoes and potatoes both years to share, repurposing juice barrels to create rain barrels for our campus and homes, continuous care of our outdoor learning environment (OLE) on campus, annual work with Queen of Peace students on Earth Day to enhance their outdoor learning spaces, digging up trees that would have otherwise been cut down and moved them to a piece of land that was destroyed in the Santiam Canyon wildfires, assisted in the fall cleanup of the Mt. Angel Community Garden and developed and implemented a 3-day outdoor school program for Blanchet's 6th-grade students. This summer the group intends on traveling to Indonesia for the international CEI conference.
Blanchet is extremely proud and honored to have two Crystal Apple nominees this year. Please join us in congratulating both of these teachers for a well-deserved nomination. In partnership with the Salem Area Chamber of Commerce, the awards will be held at the Salem Convention Center on February 10, 2023.
December 31, 2022
In honoring Stephen, "Let us show our expertise and knowledge in creative, hands-on ways that best demonstrate our abilities."

Stephen William Sacchi, age 33, met a tragic death in a single-car crash on Saturday, December 24, 2022.
Stephen attended Sacred Heart Catholic Grade School in Gervais, Oregon, and graduated class of 2008 from Blanchet Catholic High School in Salem, Oregon. While attending Blanchet, Stephen was one of those students who took advantage of all that Blanchet offered. He was a standout on the football team, a solid student in the classroom, a star performer in various drama productions, and a leader among his peers.
Stephen planned and constructed a picnic area at Keizer Rapids Park to achieve Eagle Scout with Boy Scouts of America Troop 121.
Stephen earned his bachelors from Carroll College in Helena, Montana with a degree in Secondary Education: Social Studies, with a Minor in Theatre. He taught in Tonasket, WA, Tillamook, OR, Beaverton, OR, and was most recently at Reynolds Middle School in Portland, OR.
Stephen's love of sports and theatre gave him great joy through coaching middle and high school athletes in football, track & field, and directing many school plays. He made lifelong friends everywhere he went.
Stephen is survived by his parents, Ron and Tamra Sacchi, brother, Joseph Sacchi, sister Gemma Sacchi, and numerous family and friends.
On Monday, January 2, 2023, at 10:30 am there will be a rosary for Stephen at St. Edward's Catholic Church, located at 5303 River Road NE, Keizer, OR. A funeral mass will follow at 11:00 am.
A reception and celebration of life will follow the mass at Blanchet Catholic High School located at 4373 Market St NE Salem, OR.
December 01, 2022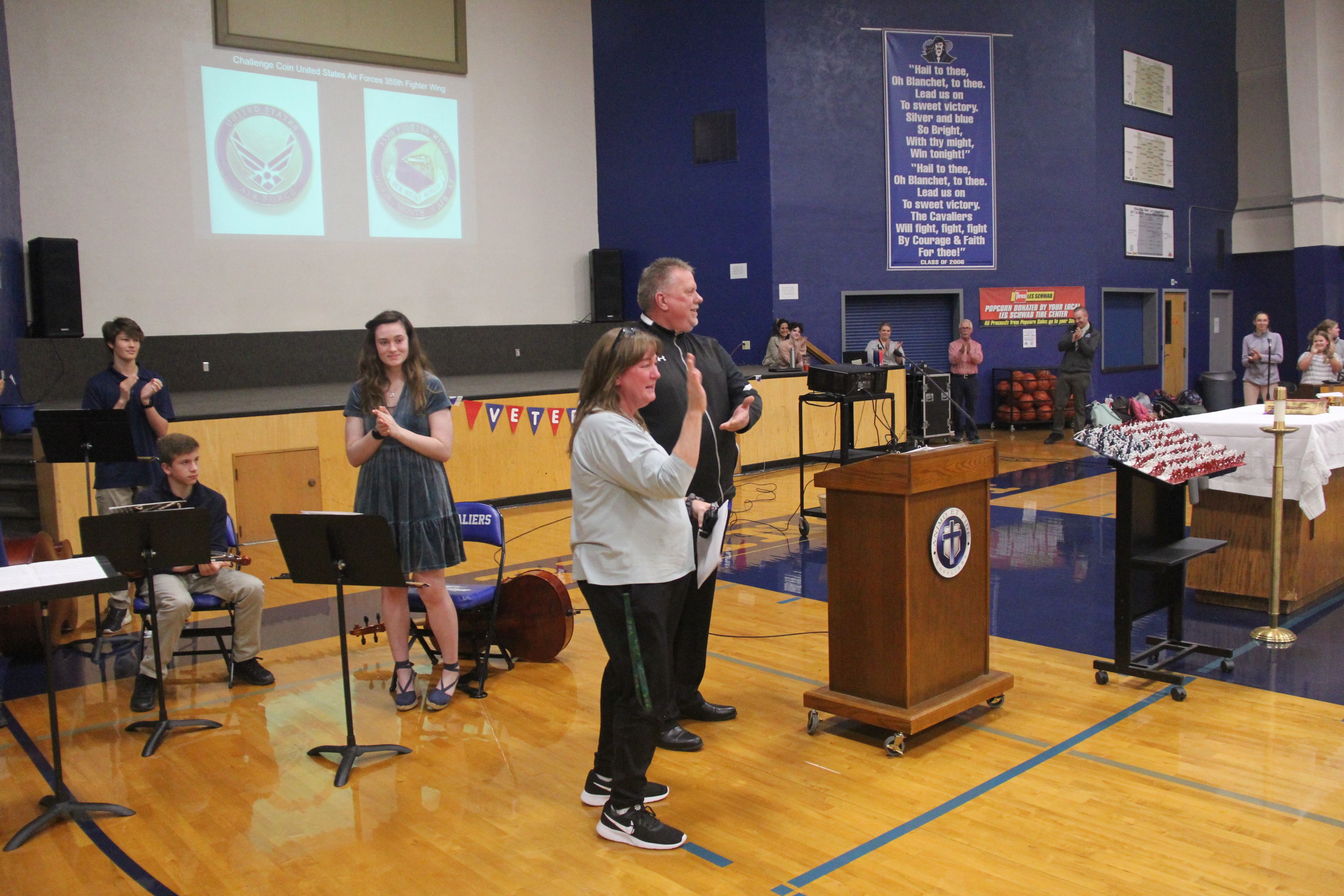 On November 10, after the school's celebration of the annual Veterans Mass, current teacher and veteran Mark Risen honored his colleague Sherrie Bashaw with a military unit "challenge" coin. Military units give these out for rising to challenges, recognition for achievements, upon departing a unit, etc. Sherrie was honored with a coin from Mark's last unit, Davis-Monthan Air Force Base, the 355th Tactical Fighter Wing. Mark offered many reasons Sherrie deserved the challenge coin including, "She is always selflessly serving behind the scenes." Selfless service is a core military value.

Here are just a few examples of things that Sherrie does to support Blanchet's students, staff and her community: She makes and delivers cupcakes for every student on their birthday; she organizes the collection and washing of shoes for the 1000 Soles program and helps kids affected by homelessness; she and her leadership class decorate the halls with posters of support for all the sports teams and activities as well as create tags for all the students who participate in sports, activities and fine arts; she advises the Students for Change Club and spends hours doing random act of kindness at Blanchet and in the community; she retired from coaching volleyball but has volunteered her time every season since to help the program continue to succeed; she works with kids to send encouragement cards to one another throughout the year; she started and organizes the annual Veterans Mass and Blue Mass honoring other selfless servants in our community; and the list goes on and on.

Mark said, "I felt her selfless service, let alone the fact that it was our Veterans Day Mass and she was the choreographer (once again), was the perfect setting to give her the challenge coin." In his presentation, Mark asked each student to stand if they had been on the receiving end of Sherrie's selfless service. The gym was filled with applause as students stood to celebrate a well deserved recognition for an amazing teacher and role model.
November 22, 2022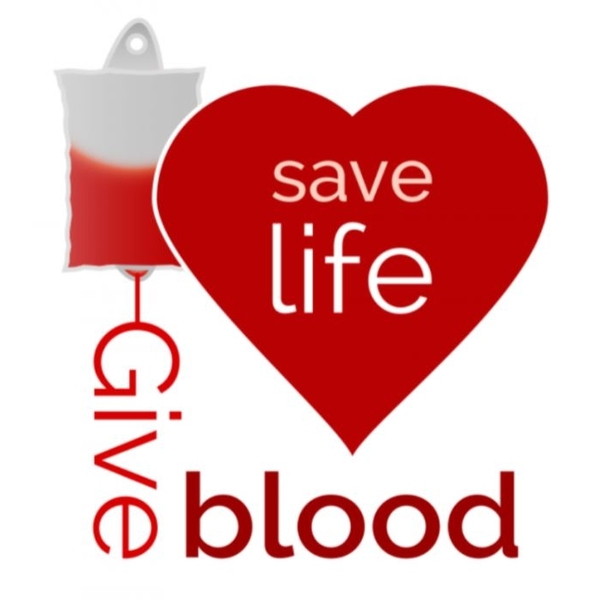 Blanchet's National Honor Society members will be hosting a blood drive with the American Red Cross at Blanchet on Tuesday, November 29. If you would like to donate blood, please contact Stephanie Razmus to get scheduled.
September 07, 2022
Dearest Blanchet community, we are asking you to pray for Christina and Steve Kosiewicz and their family. Christina is mom to three Blanchet alumni, a current Blanchet junior, and four younger children. She was diagnosed with breast cancer four years ago and recently found out she is in stage 4 with only a few months to live. With the family's permission, we are sharing some opportunities for our amazing community to show their support and love.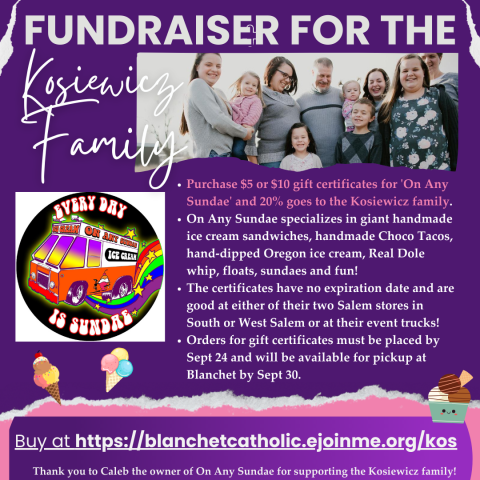 The owner of Salem's 'On Any Sundae' is selling $5 and $10 gift certificates and 20% of all proceeds will go to the Kosiewicz family. On Any Sundae specializes in giant handmade ice cream sandwiches, handmade Choco Tacos, hand-dipped Oregon ice cream, Real Dole whip, floats, sundaes, and fun! The certificates have no expiration date and are good at either of their two Salem stores in South or West Salem or at their event trucks!
Orders for gift certificates must be placed by Sept 24 and will be available for pickup at Blanchet by Sept 30.
You can also...
Donate to their dream vacation fund here.
Pray in the 54-day Rosary Novena: More info here
Sign up for MealTrain updates about Christina here.
Support the Bake Sale at St Edward's parish in Keizer on September 18.
May God and the Blanchet community bless this family in their time of need.
#ByCourageandFaith
A Passion for Sport
June 30, 2022
Ron Miller began coaching in 1976 in the Southern Oregon University football program. He was previously a football player there and it was a natural progression for him since he loved to be involved in sports. Even after being drafted into the military, he still found time to coach pee-wee football and little league baseball.
"Each season when the weather changes, your internal clock says it's time for this sport…I always played 3 sports, and I like to see them end, but I love to see them begin and I always look forward to the next one."
Mr. Miller started at Blanchet in 1996 and he has coached baseball, volleyball, basketball, and softball. There are some years when he coached 3 seasons straight, volleyball, basketball, and softball. He admits that softball has been his favorite sport to coach because of its accessibility for all levels, new and seasoned players alike.
"To me, it seems the best sport for getting everyone involved at the level they are at. It's not so much about winning, but finding a place where they can play and be successful and feel good about what they are doing."
He also believes that the best part of coaching is seeing the progression from a beginner to a seasoned player. Primarily coaching mid-high for the last 20 years Mr. Miller has had a huge impact on our young athletes as many experience sports for the first time in 6th grade.
"It's fun to see them grow and develop…building that confidence of learning."

(June 10, 2022 -Mr. Miller stands with some of the student-athletes he has coached)
Mr. Miller served as Athletic Director at Blanchet in 1995 and again from 1998 to 2014. In 2014 he also received the Oregon Athletic Directors Association award for Athletic Director of the Year for the 3A classification. As a mentor to student-athletes and other coaches, he offers this advice for new coaches:
"Never stop learning new ways to communicate with athletes. The game doesn't necessarily change but how you have to present it to them does…and be able to meet the kids where they are at."
"Be willing to admit mistakes and ask for forgiveness from the players. Setting a good example is important and we all make mistakes…being accountable is important…but sometimes you make a bad choice and that's okay…move on."
This year at the Cavalier Coaches BBQ we were able to honor the following coaches for their service and dedication to our Blanchet athletic programs. We are thankful to Coach Miller and all of our coaches for their commitment to the improvement of our student-athletes! Go, Cavs!
Matt Burrill - 5 Years of Coaching
Steve Duch - 5 Years of Coaching
Corina Moore - 5 Years of Coaching
Justin Hubbard - 10 Years of Coaching
Michael Trevino - 15 Years of Coaching
Ron Miller - 25 Years of Coaching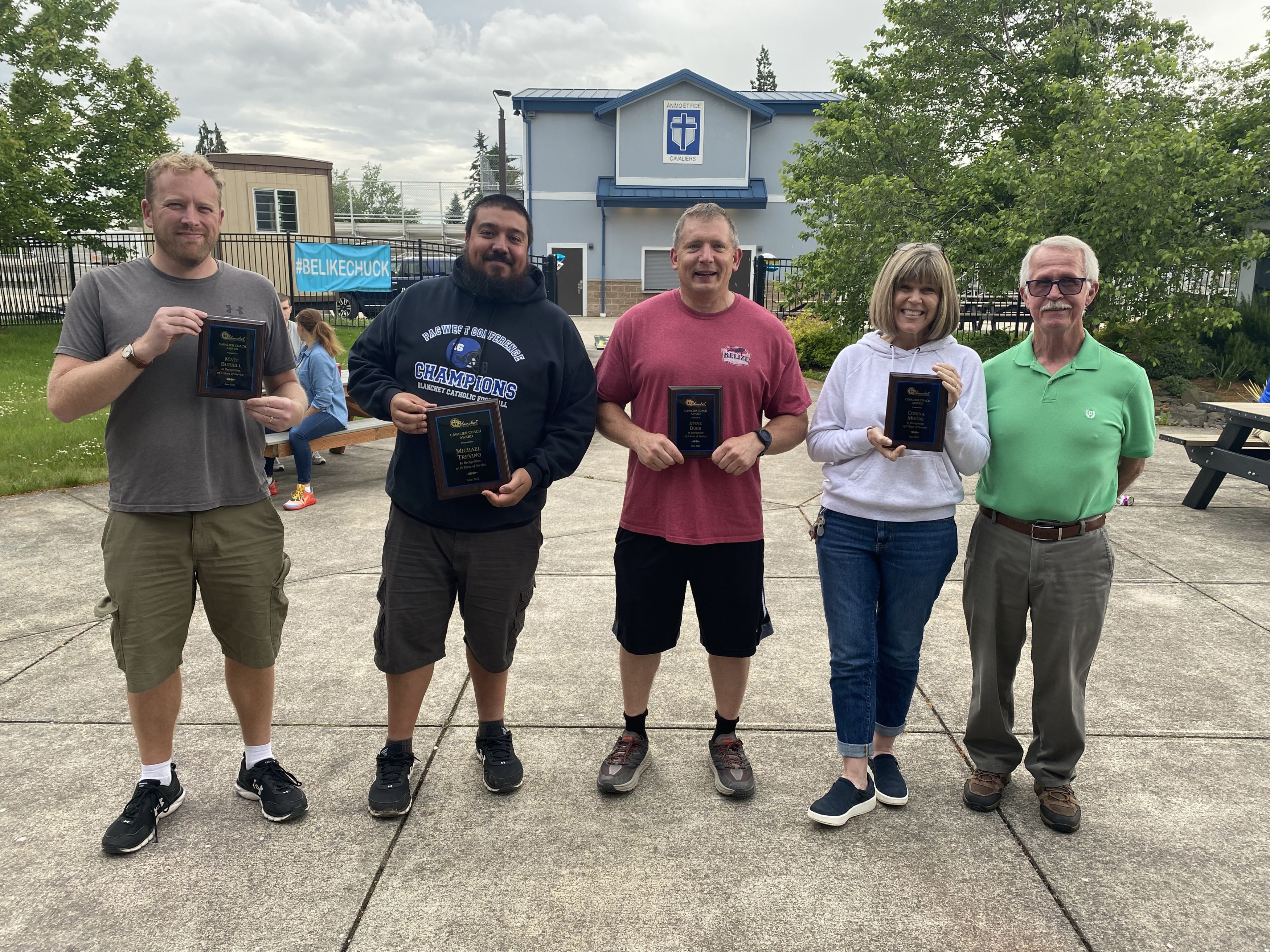 25th Annual Benefit Auction A Success!
May 26, 2022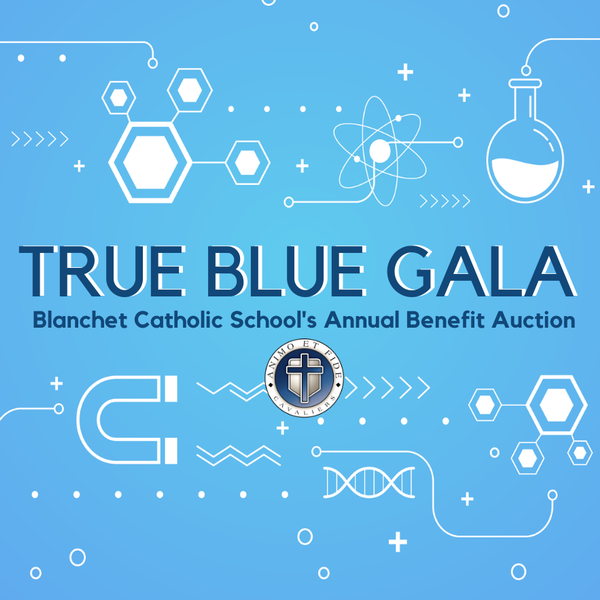 Blanchet's twenty-fifth annual benefit auction, the "True Blue Gala" was held on April 23 and was the most successful in the school's history, raising over $275,000 for students and programs. This event is possible only through the substantial efforts of our families, staff, students, and volunteers and the generous support of sponsors, donors, and friends of Blanchet Catholic School.
The week began with a virtual silent auction Monday, April 18 through 22. The virtual silent auction was incredibly successful with over 150 parents, alumni, and friends bidding online. On Saturday, April 23 we hosted our first large in-person event in almost two years. It was wonderful to see so many faces, old and new, to celebrate all things Blanchet. The Severin Sisters and Blanchet senior Hannah Estrabo performed during Happy Hour while guests enjoyed appetizers and drinks and bid on premier and dessert silent auction items. The evening concluded with a delicious dinner prepared by Holy Family Academy Catering, an engaging live auction, and a wonderfully successful paddle raise for Blanchet's new STEM Wing. We were able to meet both anonymous matching donations for the paddle raise and are close to reaching our goal to complete the STEM Wing. We will continue to raise money for this project in the coming months. If you are interested in donating, please email bobweber@blanchetcatholischool.com.
And finally, we would like to thank all of our sponsors who helped to offset the cost of this event. Please support these businesses if you are able! They include Pioneer Trust Bank, McDonald's of Salem/Keizer, Jim Frelich & Associates, Pacific EMS, AG Sadowski Co, Dr. Margaret Giruc, DDS, Hillwood Properties, Margie's Farm & Garden, Katie Piche- Berkshire Hathaway Home Services Real Estate Professionals, Legacy Real Estate Group, Queen of Peace School, Power Auto Group, Salem Clinic Obstetrics & Gynecology, Salem Radiology, Scenic Valley Farms, Severin Sisters, Triplett Wellman Contractors, AKS Engineering & Forestry, LLC, Gallagher Fitness Resources, Christine Granatir, Charlotte Eugenio - Realty One Group Willamette Valley, Michael W. Grainey Consulting LLC, Heltzel Williams PC, Kevin Mannix Law Firm, and Wyatt Construction.
Blog
March 17, 2022
The Cav Way is Blanchet's mid-high character program that was developed by administrators, staff members, and teachers last summer. This program encourages students to be mindful of themselves and others as they are moving through their days. It unifies our mid-high student body and inspires us toward common goals as we are intentional with words and actions that benefit the common good. The Cav Way is summarized in five character traits: RESPECT, CITIZENSHIP, INTEGRITY, RESPONSIBILITY, and GRIT.
In gratitude, we have been celebrating their efforts and successes with varying recognitions throughout the semester, the most common form being The Cav Way STAMP CARD. As of the end of the first semester, our mid-high student body has redeemed 760 stamp cards. This translates to an additional 7,600 positive interactions between students and staff members! We recently celebrated with a relaunch of The Cav Way that recognized the students' efforts and successes, followed by the viewing of the PG movie, Wonder. Go Cavs!