September 07, 2022
Dearest Blanchet community, we are asking you to pray for Christina and Steve Kosiewicz and their family. Christina is mom to three Blanchet alumni, a current Blanchet junior, and four younger children. She was diagnosed with breast cancer four years ago and recently found out she is in stage 4 with only a few months to live. With the family's permission, we are sharing some opportunities for our amazing community to show their support and love.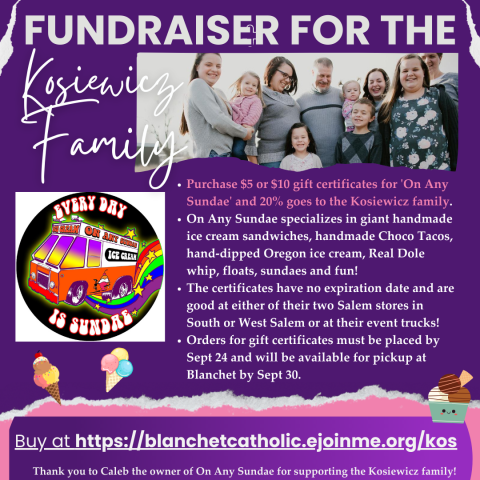 The owner of Salem's 'On Any Sundae' is selling $5 and $10 gift certificates and 20% of all proceeds will go to the Kosiewicz family. On Any Sundae specializes in giant handmade ice cream sandwiches, handmade Choco Tacos, hand-dipped Oregon ice cream, Real Dole whip, floats, sundaes, and fun! The certificates have no expiration date and are good at either of their two Salem stores in South or West Salem or at their event trucks!
Orders for gift certificates must be placed by Sept 24 and will be available for pickup at Blanchet by Sept 30.
You can also...
Donate to their dream vacation fund here.
Pray in the 54-day Rosary Novena: More info here
Sign up for MealTrain updates about Christina here.
Support the Bake Sale at St Edward's parish in Keizer on September 18.
May God and the Blanchet community bless this family in their time of need.
#ByCourageandFaith
A Passion for Sport
June 30, 2022
Ron Miller began coaching in 1976 in the Southern Oregon University football program. He was previously a football player there and it was a natural progression for him since he loved to be involved in sports. Even after being drafted into the military, he still found time to coach pee-wee football and little league baseball.
"Each season when the weather changes, your internal clock says it's time for this sport…I always played 3 sports, and I like to see them end, but I love to see them begin and I always look forward to the next one."
Mr. Miller started at Blanchet in 1996 and he has coached baseball, volleyball, basketball, and softball. There are some years when he coached 3 seasons straight, volleyball, basketball, and softball. He admits that softball has been his favorite sport to coach because of its accessibility for all levels, new and seasoned players alike.
"To me, it seems the best sport for getting everyone involved at the level they are at. It's not so much about winning, but finding a place where they can play and be successful and feel good about what they are doing."
He also believes that the best part of coaching is seeing the progression from a beginner to a seasoned player. Primarily coaching mid-high for the last 20 years Mr. Miller has had a huge impact on our young athletes as many experience sports for the first time in 6th grade.
"It's fun to see them grow and develop…building that confidence of learning."

(June 10, 2022 -Mr. Miller stands with some of the student-athletes he has coached)
Mr. Miller served as Athletic Director at Blanchet in 1995 and again from 1998 to 2014. In 2014 he also received the Oregon Athletic Directors Association award for Athletic Director of the Year for the 3A classification. As a mentor to student-athletes and other coaches, he offers this advice for new coaches:
"Never stop learning new ways to communicate with athletes. The game doesn't necessarily change but how you have to present it to them does…and be able to meet the kids where they are at."
"Be willing to admit mistakes and ask for forgiveness from the players. Setting a good example is important and we all make mistakes…being accountable is important…but sometimes you make a bad choice and that's okay…move on."
This year at the Cavalier Coaches BBQ we were able to honor the following coaches for their service and dedication to our Blanchet athletic programs. We are thankful to Coach Miller and all of our coaches for their commitment to the improvement of our student-athletes! Go, Cavs!
Matt Burrill - 5 Years of Coaching
Steve Duch - 5 Years of Coaching
Corina Moore - 5 Years of Coaching
Justin Hubbard - 10 Years of Coaching
Michael Trevino - 15 Years of Coaching
Ron Miller - 25 Years of Coaching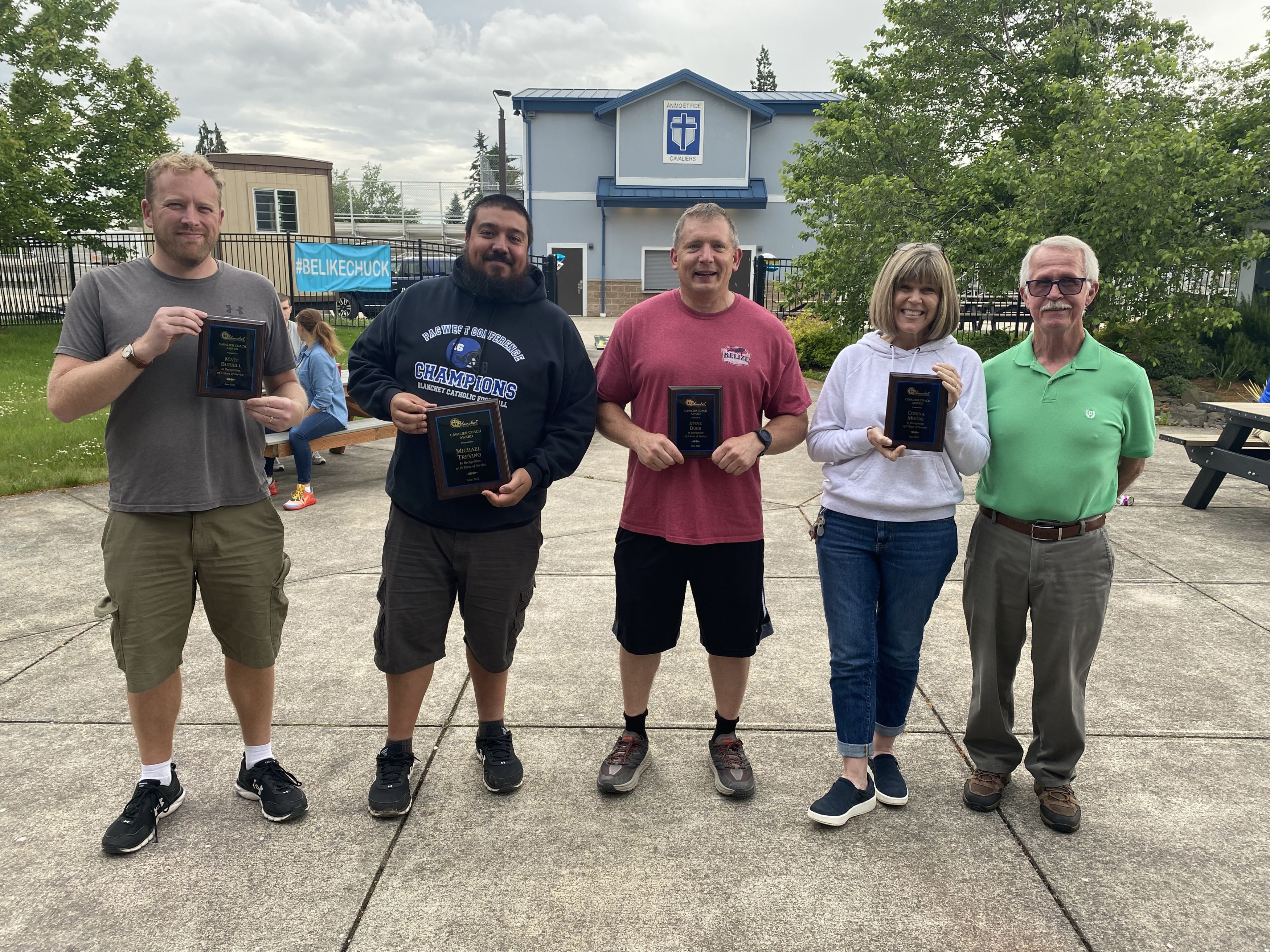 25th Annual Benefit Auction A Success!
May 26, 2022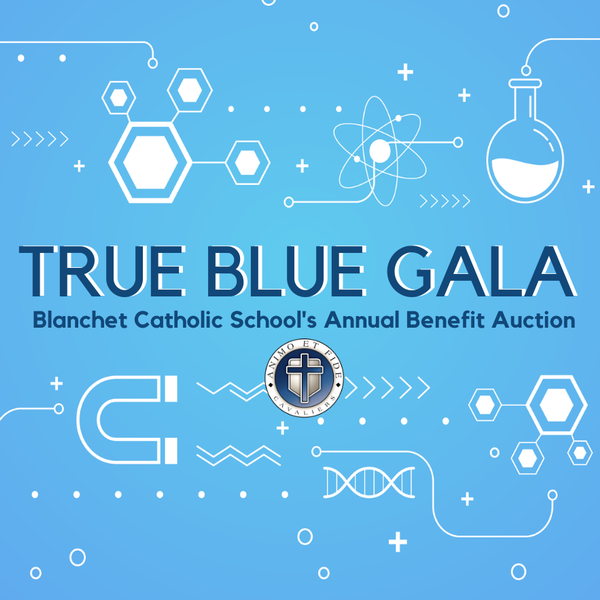 Blanchet's twenty-fifth annual benefit auction, the "True Blue Gala" was held on April 23 and was the most successful in the school's history, raising over $275,000 for students and programs. This event is possible only through the substantial efforts of our families, staff, students, and volunteers and the generous support of sponsors, donors, and friends of Blanchet Catholic School.
The week began with a virtual silent auction Monday, April 18 through 22. The virtual silent auction was incredibly successful with over 150 parents, alumni, and friends bidding online. On Saturday, April 23 we hosted our first large in-person event in almost two years. It was wonderful to see so many faces, old and new, to celebrate all things Blanchet. The Severin Sisters and Blanchet senior Hannah Estrabo performed during Happy Hour while guests enjoyed appetizers and drinks and bid on premier and dessert silent auction items. The evening concluded with a delicious dinner prepared by Holy Family Academy Catering, an engaging live auction, and a wonderfully successful paddle raise for Blanchet's new STEM Wing. We were able to meet both anonymous matching donations for the paddle raise and are close to reaching our goal to complete the STEM Wing. We will continue to raise money for this project in the coming months. If you are interested in donating, please email bobweber@blanchetcatholischool.com.
And finally, we would like to thank all of our sponsors who helped to offset the cost of this event. Please support these businesses if you are able! They include Pioneer Trust Bank, McDonald's of Salem/Keizer, Jim Frelich & Associates, Pacific EMS, AG Sadowski Co, Dr. Margaret Giruc, DDS, Hillwood Properties, Margie's Farm & Garden, Katie Piche- Berkshire Hathaway Home Services Real Estate Professionals, Legacy Real Estate Group, Queen of Peace School, Power Auto Group, Salem Clinic Obstetrics & Gynecology, Salem Radiology, Scenic Valley Farms, Severin Sisters, Triplett Wellman Contractors, AKS Engineering & Forestry, LLC, Gallagher Fitness Resources, Christine Granatir, Charlotte Eugenio - Realty One Group Willamette Valley, Michael W. Grainey Consulting LLC, Heltzel Williams PC, Kevin Mannix Law Firm, and Wyatt Construction.
Blog
March 17, 2022
The Cav Way is Blanchet's mid-high character program that was developed by administrators, staff members, and teachers last summer. This program encourages students to be mindful of themselves and others as they are moving through their days. It unifies our mid-high student body and inspires us toward common goals as we are intentional with words and actions that benefit the common good. The Cav Way is summarized in five character traits: RESPECT, CITIZENSHIP, INTEGRITY, RESPONSIBILITY, and GRIT.
In gratitude, we have been celebrating their efforts and successes with varying recognitions throughout the semester, the most common form being The Cav Way STAMP CARD. As of the end of the first semester, our mid-high student body has redeemed 760 stamp cards. This translates to an additional 7,600 positive interactions between students and staff members! We recently celebrated with a relaunch of The Cav Way that recognized the students' efforts and successes, followed by the viewing of the PG movie, Wonder. Go Cavs!