Alumni Night
Homecoming 2022
Friday, September 30, 2022, at Mountain West Stadium
Blanchet Catholic School
All Blanchet alumni are invited to join us for Homecoming 2022. The Cavaliers will play the Santiam Wolverines at Mountain West Stadium at 7:00 pm on Friday, September 30. There is no charge for alumni and you will receive a pass for free concession and have reserved seating! We hope you'll stop in for a fun night!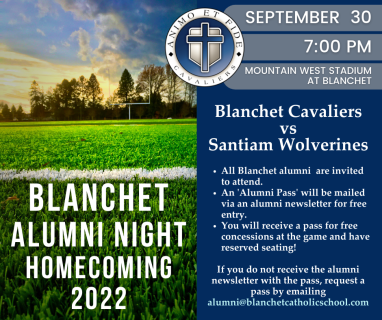 Below is an alumni pass you can use for free entry into the game! It is also valid for entry at any regular season, home athletic event, and drama performance this school year.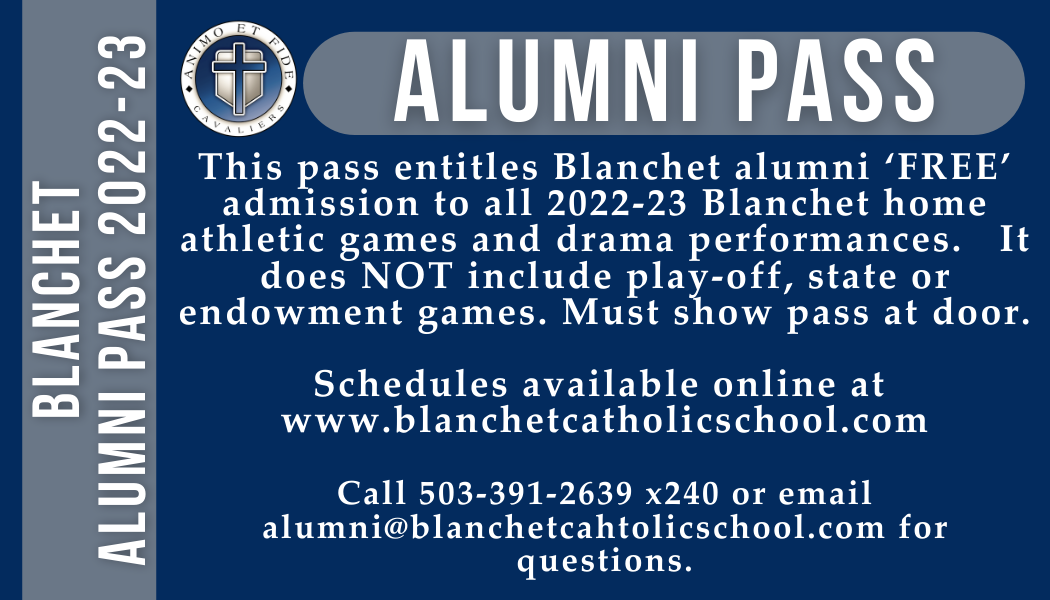 2022 True Blue Gala
Annual Benefit Auction
Saturday, October 29, 2022
We can't wait to welcome you back to campus for your first reunion! We'll be celebrating on campus with a happy hour-style event. Take a tour of campus, enjoy some refreshments, play some trivia and visit with former classmates and teachers. Please make sure to RSVP for you and a guest by August 13, as we'll be maintaining proper social distancing measures.
Live Auction
Saturday, Oct 29, 2022; 6-9pm
In-Person, Catered dinner, entertainment, premier and dessert auction
Registration opens October 4, 2022
Auction Catalog - available on October 26, 2022
Embrace the Potential - TBD
Virtual Silent Auction
Will be online only.
Registration will open on October 17, 2022.
Virtual Silent Auction 0pens Monday, October 24 at 12:00 n
Closes on Friday, October 28 at 7 pm
For more information or to donate/sponsor, click here.