Blanchet Wins 3rd Consecutive Shoe Battle
June 08, 2020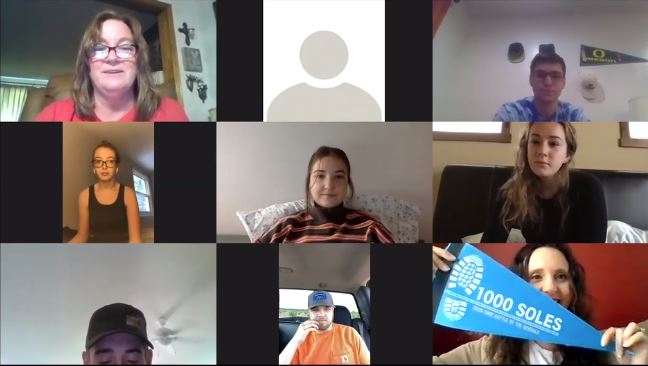 During Mrs. Bashaw's Leadership Class final via Zoom last week they received big news! Laurie Shaw Casarez, the Youth Development and Prevention Coordinator with the City of Salem was a surprise guest and announced that the Leadership team, along with the entire Blanchet student body and Blanchet community, won the 1000 Soles Shoe Battle for the third consecutive year.
Watch the award announcement here.
One Thousand Soles is a teen-championed community shoe drive for children and teens in-need. Coordinated by the City of Salem, collections and awareness campaigns occur year-round. Teams collect and donate new and clean, gently-used shoes along with new socks and new laces to win the 2020 Shoe Battle of the Schools.
This year Blanchet had help from great schools and businesses who we would have not been able to achieve our goal without their help. They include:
Blanchet Catholic School
Abiqua Academy
Geppetto's Italian Restaurant
Holy Family Academy
Queen of Peace Parish and School
Les Schwab, Lancaster Drive
McNary Golf Club
Northwest Rehabilitation Associates
RE Building (Both)
Regis Catholic High School
Sacred Heart Parish and School
St Edwards Parish
St James Parish and School
St Joseph Parish and School
St Mary's Catholic School
St Vincent Parish and School
Salem Academy High School
Swegle Elementary
Blanchet and the Leadership team will be receiving a special plaque from the City of Salem in appreciation of their efforts over the last three years! Thank you to Mrs. Bashaw and her Leadership class and the entire Blanchet community for supporting this great event to help out kids who need shoes! By courage and faith!