Blanchet is able to offer bus transportation both before and after school. Buses
will pick up and drop off students in the parking lot of the four local Catholic
churches and elsewhere at the following approximate times.
Blanchet Catholic School—Daily Bus Schedule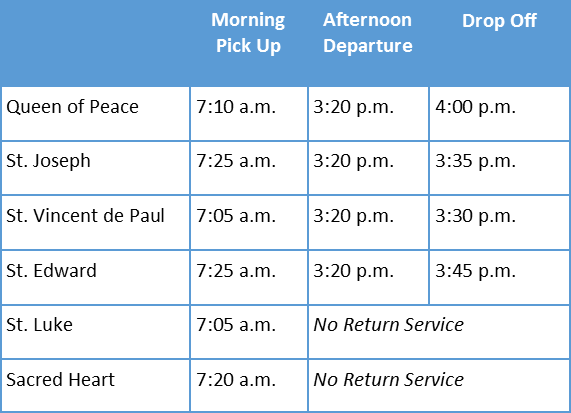 * St. Joseph bus stops on the Chemeketa Street side of the church after school
on regular school days. It stops on the Center Street side in the mornings and
after school on half days.

** St. Luke & Sacred Heart - Blanchet offers morning transportation for families
who are coming from the Woodburn/Gervais area. This is only a morning
transportation opportunity as there will not be an afternoon run of this route.
In order to ensure that we provide a large enough vehicle for the number of
students who are planning on participating in this route on a daily basis, we
require families to reserve a spot for this route. You may reserve a spot by
emailing us at attendance@blanchetcatholicschool.com by September 1st
or filling out our Bus Sign-up Form.