Posts Tagged "prayers"
September 07, 2022
Dearest Blanchet community, we are asking you to pray for Christina and Steve Kosiewicz and their family. Christina is mom to three Blanchet alumni, a current Blanchet junior, and four younger children. She was diagnosed with breast cancer four years ago and recently found out she is in stage 4 with only a few months to live. With the family's permission, we are sharing some opportunities for our amazing community to show their support and love.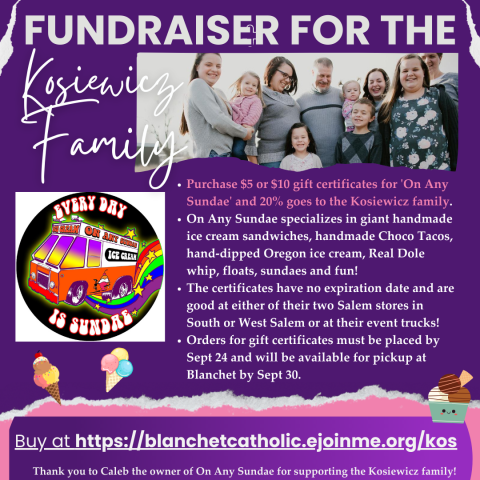 The owner of Salem's 'On Any Sundae' is selling $5 and $10 gift certificates and 20% of all proceeds will go to the Kosiewicz family. On Any Sundae specializes in giant handmade ice cream sandwiches, handmade Choco Tacos, hand-dipped Oregon ice cream, Real Dole whip, floats, sundaes, and fun! The certificates have no expiration date and are good at either of their two Salem stores in South or West Salem or at their event trucks!
Orders for gift certificates must be placed by Sept 24 and will be available for pickup at Blanchet by Sept 30.
You can also...
Donate to their dream vacation fund here.
Pray in the 54-day Rosary Novena: More info here
Sign up for MealTrain updates about Christina here.
Support the Bake Sale at St Edward's parish in Keizer on September 18.
May God and the Blanchet community bless this family in their time of need.
#ByCourageandFaith
25th Annual Benefit Auction A Success!