Blog
Posts Tagged "Blanchet"
March 07, 2022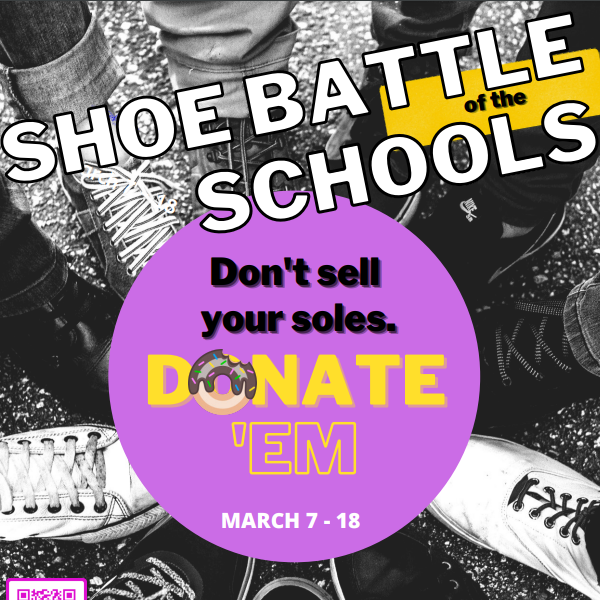 The Shoe Battle Begins. Can you help?
Blanchet's leadership class is reaching out for extra hands this year to help with the annual shoe battle. The battle begins March 7 and ends March 18. This amazing event has been going on for several years and the main goal is to collect as many shoes as we can to donate to homeless kids, teens, and young adults, in the Salem-Keizer school district and surrounding areas.
Blanchet is collecting mostly new or slightly used shoes. We cannot accept ballet flats, slippers, sandals, or flip-flops because they break easily or take up too much room. Our target is to collect 1,000 pairs of shoes. Any of the following count as one pair of shoes:
Athletic shoes
Cleats
Skate shoes
Tennis shoes
Casual tennis shoes
Boots and cowboy boots
Formal heels
10 new pairs of socks
25 new pairs of shoelaces
If you can help by setting out a bin to collect shoes and/or putting up a poster to spread the word, please email Mrs. Bashaw at sherriebashaw@blanchetcatholicschool.com. Thank you for supporting Blanchet Catholic School in this important activity!
April 21, 2021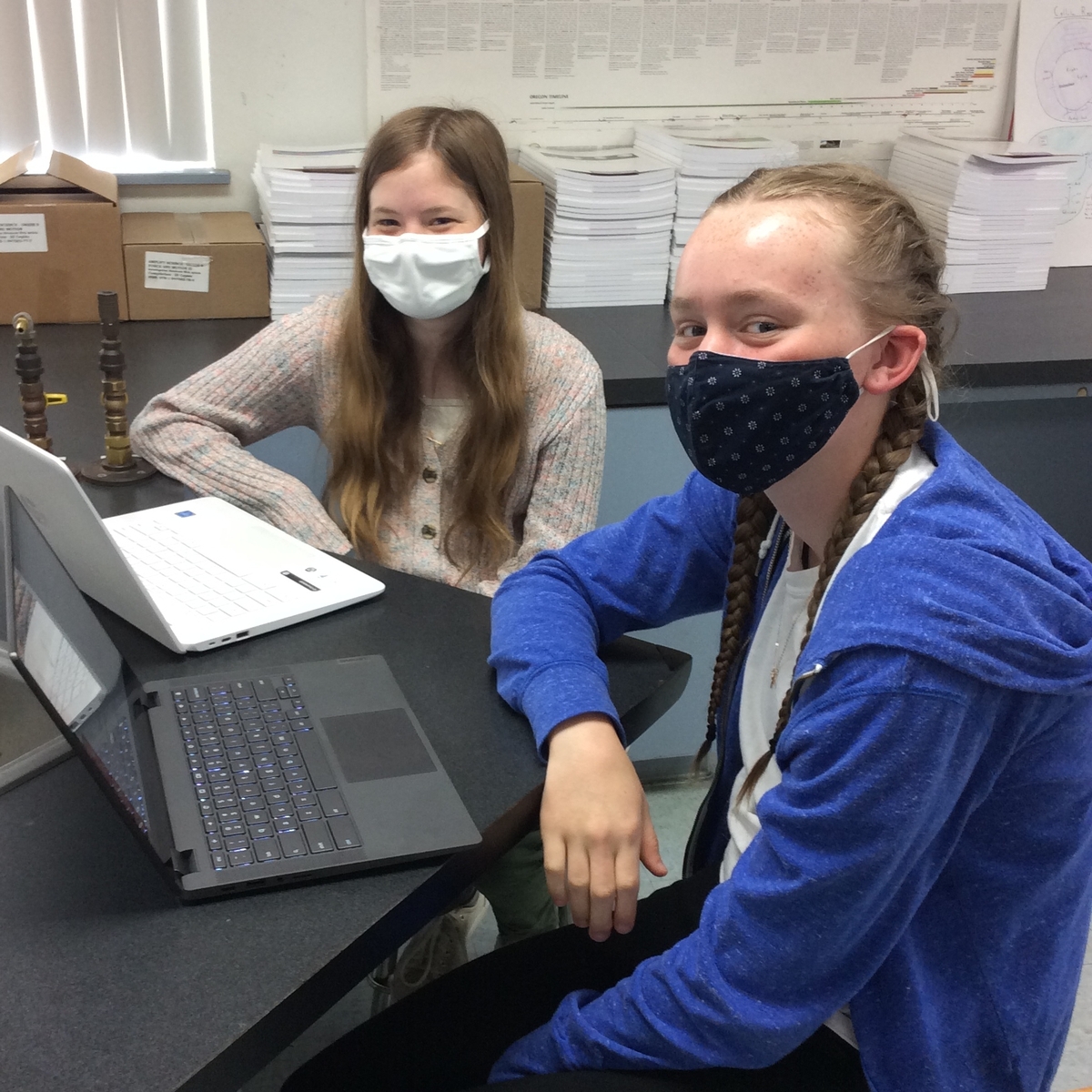 Congratulations to Blanchet's Science Olympiad team who competed on Saturday, April 17, 2021. We were up against 15 other Oregon schools; twelve of whom are 5A and larger.
Blanchet's team finished a respectable eighth of the fifteen teams. Our team had top ten places in twelve of the twenty-one events. A silver medal was earned by Denavae Randall and Sophie Schindler for their second place in Disease Detectives. Denavae and Sophie also finished 5th in the AgriBio event.
The other top ten competitors are:
Jackson Mucken and Max Quintero 6th in Ornithology;
Logan Day and Tanveer Singh 6th in Digital Structures;
Ben Alley, Rieve Randall and Tanveer Singh 7th in Experimental Design;
Holden Prine and Max Quintero 7th in Circuit Lab;
Logan Day and Aliya Suri 8th in Forensics;
Emma Lutz and Sam Richards 8th in Fossils;
Logan Day and Aliya Suri 8th in Chem Lab;
Diego Diaz-Diaz and Hannah Estrabo 8th in Sounds of Music;
Diego Diaz-Diaz and Hannah Estrabo 8th in Designer Genes;
Holden Prine, Max Quintero, and Rieve Randall 10th in CodeBusters.
This was a great showing for a team made up of mostly first time competitors with everyone placing at least tenth or better in one or more events. The team was coached by Mr. David Shultz. We'd also like to thank Mrs. Churchill for helping with this year's team and supervising on Saturday.
Science Olympiad functions much like an athletic team, requiring preparation, commitment, coaching and practice throughout the year. Each school-based team is allowed to bring 15 students who cross-train for a variety of events in their skill set allowing for an apprentice and mentoring system.
Science Olympiad competitions are like academic track meets, consisting of a series of team events in each division (Division B is middle school; Division C is high school). Each year, a portion of the events are rotated to reflect the ever-changing nature of genetics, earth science, chemistry, anatomy, physics, geology, mechanical engineering and technology. By combining events from all disciplines, Science Olympiad encourages a wide cross-section of students to get involved. Emphasis is placed on active, hands-on group participation. Through Science Olympiad, students, teachers, parents, principals and business leaders bond together and work toward a shared goal.
For more information about Blanchet's Science Olympiad teams, please look up Science Olympiad on our Club Web page
by clicking here!
April 07, 2021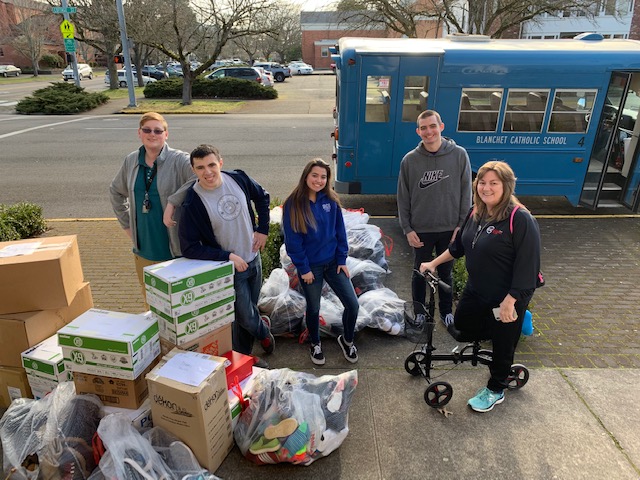 Middle school teacher Sherrie Bashaw was selected to receive the City of Salem's Youth Achievement Award from Salem Mayor Chuck Bennett and the Salem City Council. The award recognized Sherrie's volunteer service with the 1000 Soles/Shoe Battle of the Schools Shoe Drive. Sherrie was honored during the November 23, 2020 City Council meeting when they hosted an award ceremony for local volunteers. She and one of her students were personally presented the award from Mayor Bennett.
Sherrie and her Leadership classes have worked tirelessly to help local homeless youth find shoes through 1000 Soles/Shoe Battle of the Schools Shoe Drive. Over the past three years, the Blanchet Catholic School community has brought in over 2,700 pairs of shoes for the organization. Also over the past three years, Blanchet Catholic School has won the Shoe Battle of the Schools trophy.
Laurie Shaw Casarez, the Youth Development and Prevention Coordinator with the City of Salem, said this about Blanchet Catholic School's impact on local homeless youth, "Thank you in a huge way for your heart to help your peers in this community. Particularly kids who just need a decent pair of shoes on their feet every year. Thank you from the bottom of my heart. You inspire me."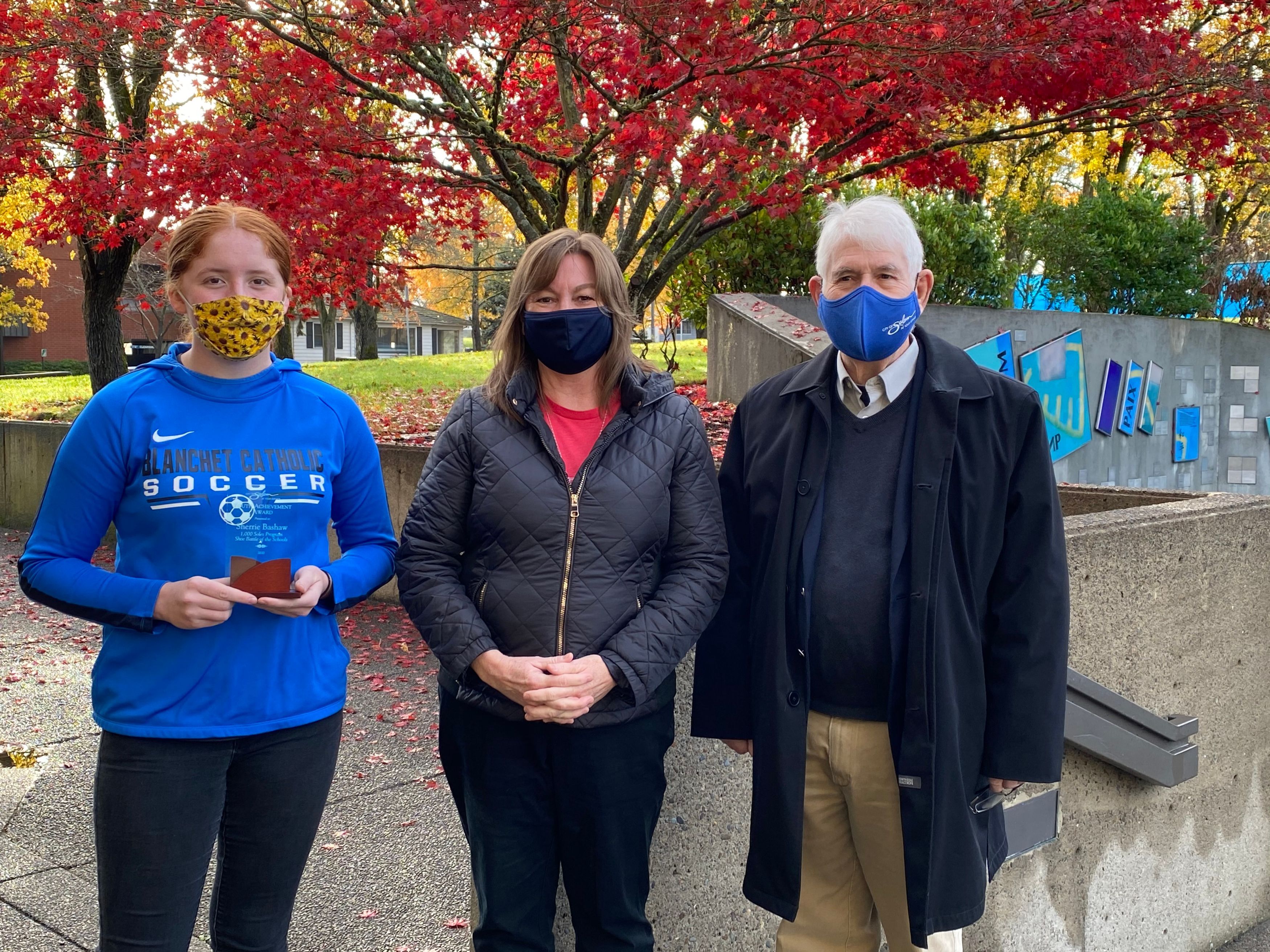 October 28, 2020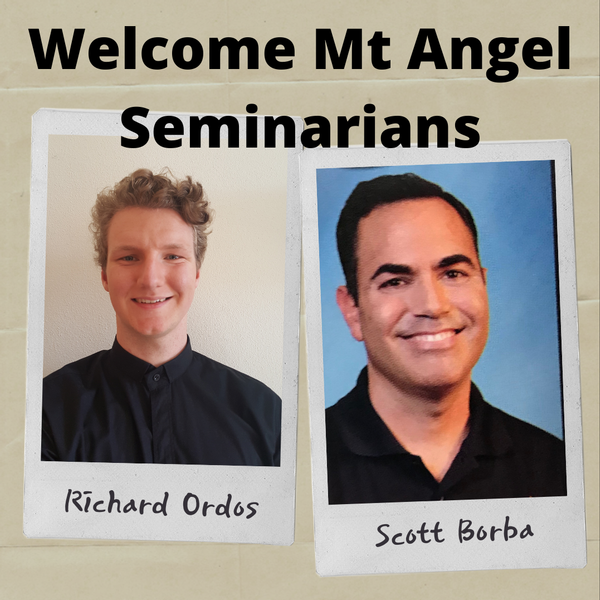 Blanchet Catholic School is blessed to partner with Mt. Angel Abbey as part of their Pastoral Formation Field Education program. For the last 6 years, Mt. Angel Abbey has sent two seminarian students to participate in Blanchets' Christian service learning efforts during the school year. The seminarians interact with the religion classes, retreats, and service opportunities. The Field Education experience provides the ideal opportunity for seminarians to grow in pastoral charity and to serve as a bridge for youth to connect with their faith. Whether in religion classes, at retreats, or community events, the seminarians help provide a spiritual, human, and academic dimension to faith and spirituality at Blanchet.
This year, our seminarians include Richard Ordos and Scott Borba. With our digital learning protocols in place, the seminarians participate by joining Zoom classes, virtually attending retreat planning sessions, and giving theological insight for classroom lessons.
The staff and students enjoy working with these gentlemen, and we would like to introduce them to the Blanchet community. Please keep them in your prayers and welcome them to Blanchet Catholic School.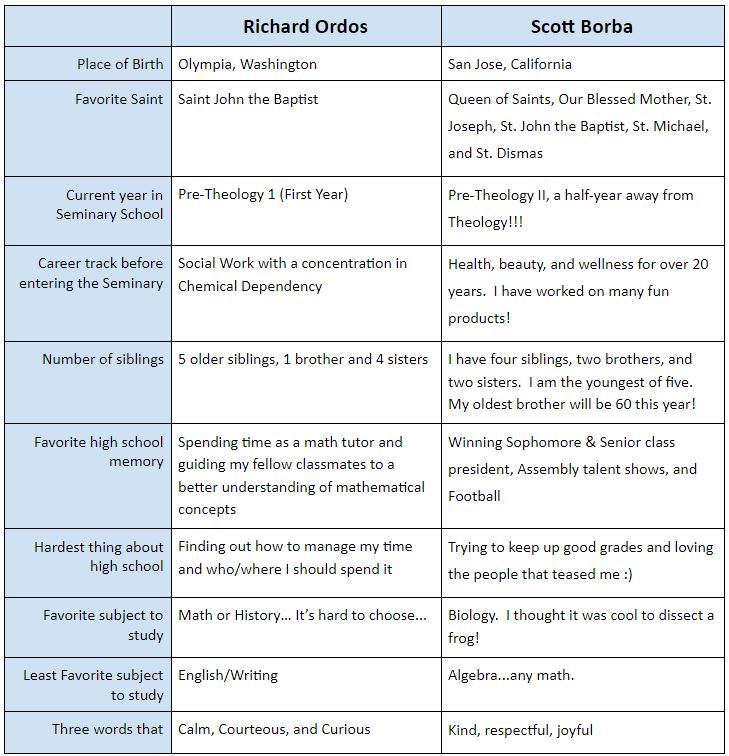 September 16, 2020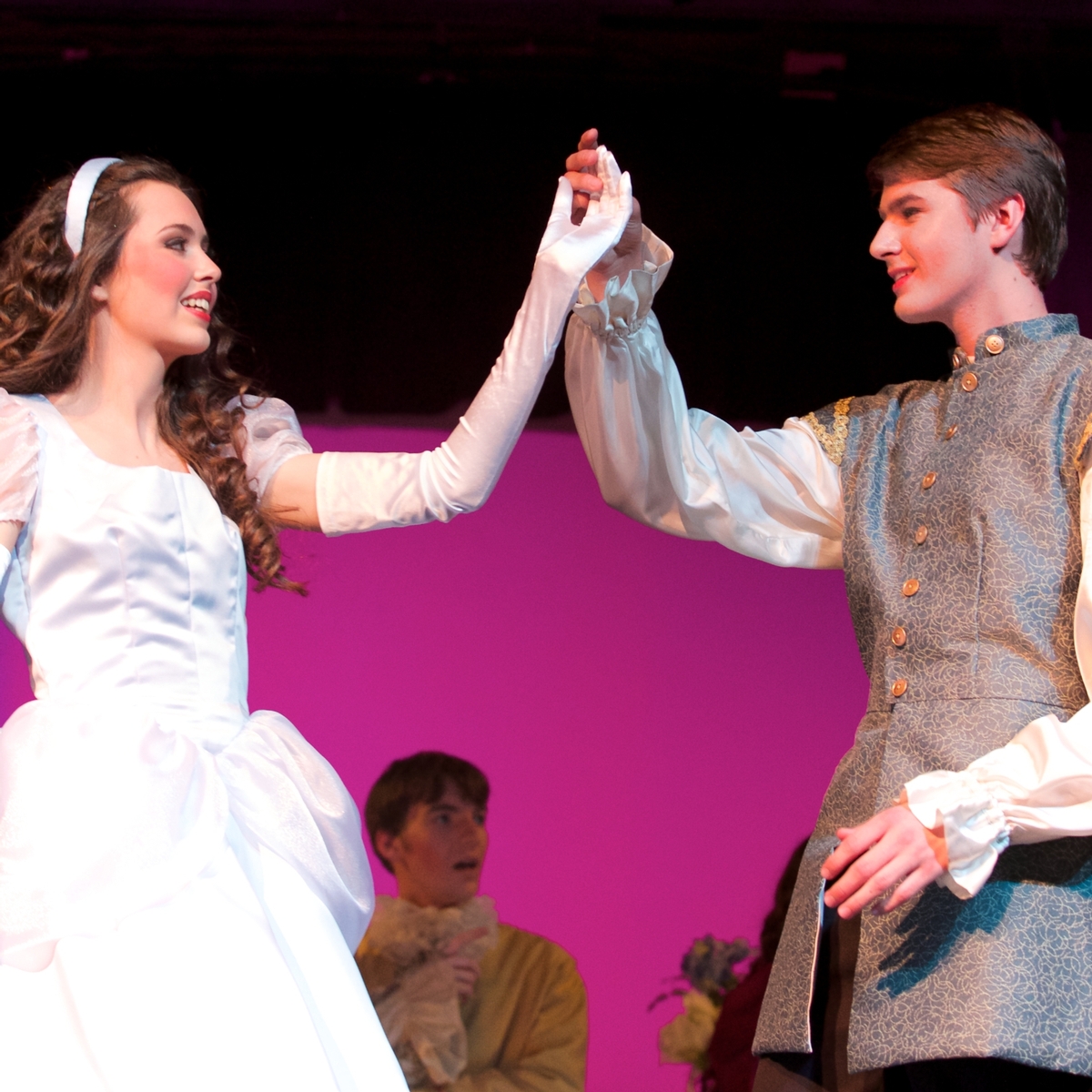 To Be or Not to Be! Even in the time of Covid-19 and digital learning, Blanchet Catholic Schools' drama program has chosen TO BE! Drama is an important tool for preparing students to live and work in a world that is increasingly team-oriented rather than hierarchical. Drama also helps students develop tolerance and empathy. In addition to its intrinsic educational value, drama can reinforce the rest of the school curriculum.
Blanchet's drama program is moving forward and while things may be different to adjust for COVID-19 restrictions, we will be offering drama productions for both middle school and high school students. We will also continue our membership in the International Thespian Society for Blanchet club members.
We're excited to announce that longtime Blanchet teacher, Mrs. Kasey Roberts is back in costume. Mrs. Roberts was Blanchet's Drama director for many years and directed many memorable performances including Les Misérables, Aida, and many more. She is also joined by Blanchet alumni and first year Blanchet teacher, Mr. Shea White-Toney ('14). While a student at Blanchet Shea participated in drama and was Prince Charming in the 2014 production of Cinderella.
This year's performances will be one-act vignettes that will allow for socially distanced rehearsals and performances. There will be one show presented this November (19-21) and another in April 2021 (15-17). More information about show times and how the performances will be shared will be sent closer to the performance dates.