Posts Tagged "Blanchet"
February 27, 2023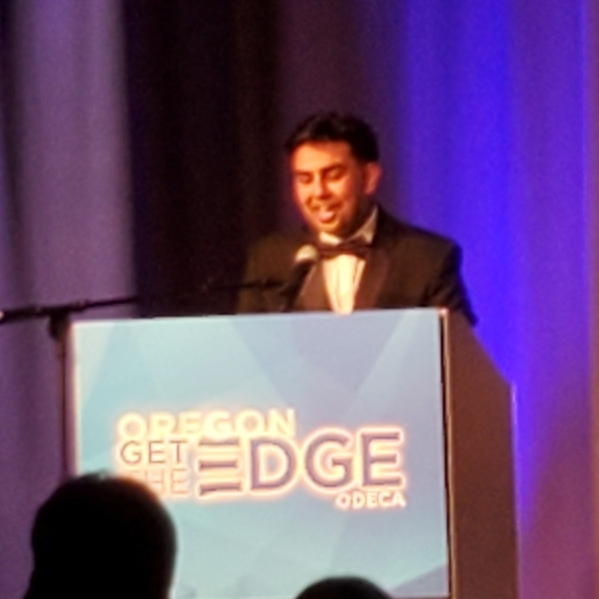 Blanchet's DECA mission statement is "to give all members the ability to grow in an honest and challenging environment." DECA is primarily a co-curricular activity where students learn to conduct marketing research projects, promotion plans, and start-up businesses, and encounter realistic workplace challenges. The experience-based activities require students to use both basic and higher academic skills such as writing, math, economics, social science, communication, presentation, research, and data analysis.
The pinnacle of Oregon DECA is the State Career Development Conference (SCDC). Nearly 1,000 students from all over Oregon attend to compete for an opportunity to advance to the International Career Development Conference (ICDC). Aside from competition, this three-day conference includes many networking opportunities, leadership sessions, and a chance to create lasting friendships among chapter members.
Reaching a membership milestone this year with 72 Cavaliers in Blanchet's DECA chapter, the students underwent a season of practices and a district competition held at Blanchet to prepare them for the state competition. Blanchet then took our largest contingent ever, over 49 students, to the 3-day DECA SCDC conference in Portland. At the state championships, six of our students earned guaranteed spots at ICDC; they are Tanveer Singh, Nhi Huynh, Paola Diaz-Hermosillo, Holden Prine, Max Quintero, and Koren Ickes-Amend. Blanchet's Community Outreach Project, The Open Minded Project, led by Paola, Tanveer, and Nhi, earned a first-place spot that will take them to ICDC! Holden Prine and Max QUintero also stood atop the podium with their business development project for a total of five Cavalier state champions at this year's SCDC!
More honors were also earned as twenty Cavaliers finished in the top 10 in the state of Oregon in their respective competitions, ten Cavaliers placed 4th through 8th in their events and were honored with a medal, and thirty-eight placed in the top 25 competitors for their event(s) at SCDC! Over twenty Blanchet students placed in multiple events and eight new Cavalier DECA members placed in their principle (novice) events!
Additionally, thirteen Cavaliers qualified for nationals and will attend ICDC from April 21 to 26 in Orlando, Florida. The Cavalier contingent to Florida includes Elisabeth Fromwiller, Abby Webber, Holden Prine, Max Quintero, Claire Raffensperger, Raquelle Hendrix, Ben Alley, Nhi Huynh, Carter Mucken, Tanveer Singh, Brooklyn Ries, Grace Weber, and Koren Ickes-Amend.
We are also very proud to announce that Blanchet junior, Tanveer Singh, was re-elected as Oregon DECA"s President for 2023-2024. Oregon DECA officers are elected by their peers at SCDC and represent Oregon's membership. The State Officer team develops a program of work aligned to the strategic goals of DECA. Throughout the year, the team interacts with the membership to implement and enhance DECA programs. Congratulations to Tanveer as he represents Blanchet and the DECA community in this role!
Posts Tagged "Blanchet"
December 01, 2022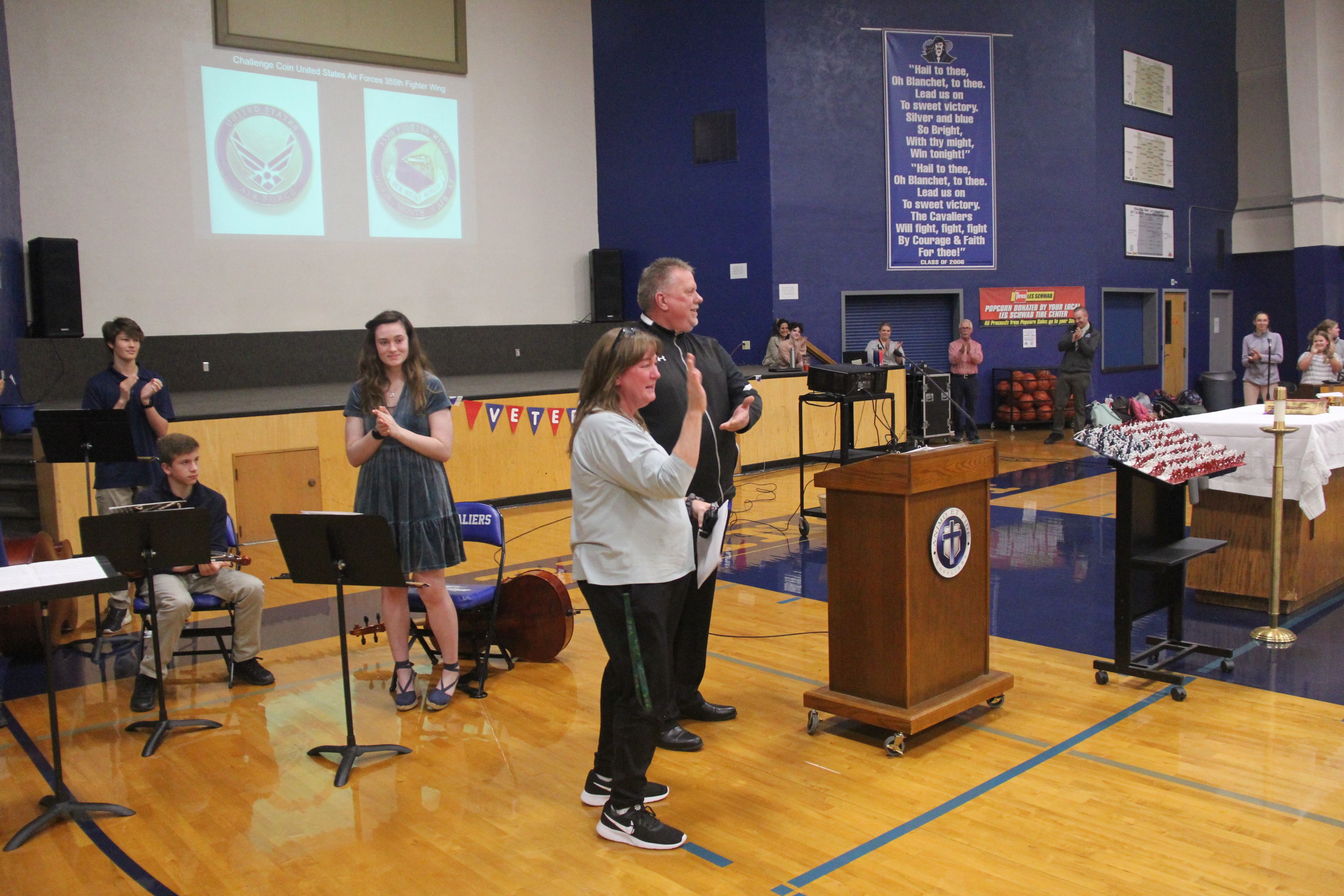 On November 10, after the school's celebration of the annual Veterans Mass, current teacher and veteran Mark Risen honored his colleague Sherrie Bashaw with a military unit "challenge" coin. Military units give these out for rising to challenges, recognition for achievements, upon departing a unit, etc. Sherrie was honored with a coin from Mark's last unit, Davis-Monthan Air Force Base, the 355th Tactical Fighter Wing. Mark offered many reasons Sherrie deserved the challenge coin including, "She is always selflessly serving behind the scenes." Selfless service is a core military value.

Here are just a few examples of things that Sherrie does to support Blanchet's students, staff and her community: She makes and delivers cupcakes for every student on their birthday; she organizes the collection and washing of shoes for the 1000 Soles program and helps kids affected by homelessness; she and her leadership class decorate the halls with posters of support for all the sports teams and activities as well as create tags for all the students who participate in sports, activities and fine arts; she advises the Students for Change Club and spends hours doing random act of kindness at Blanchet and in the community; she retired from coaching volleyball but has volunteered her time every season since to help the program continue to succeed; she works with kids to send encouragement cards to one another throughout the year; she started and organizes the annual Veterans Mass and Blue Mass honoring other selfless servants in our community; and the list goes on and on.

Mark said, "I felt her selfless service, let alone the fact that it was our Veterans Day Mass and she was the choreographer (once again), was the perfect setting to give her the challenge coin." In his presentation, Mark asked each student to stand if they had been on the receiving end of Sherrie's selfless service. The gym was filled with applause as students stood to celebrate a well deserved recognition for an amazing teacher and role model.
Posts Tagged "Blanchet"
November 22, 2022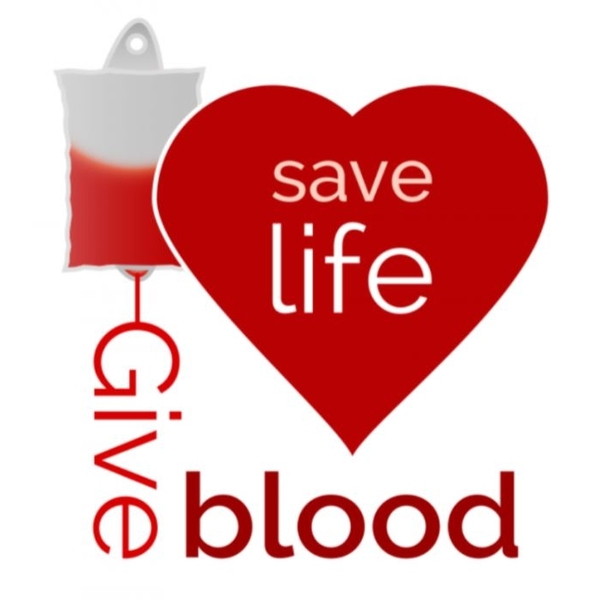 Blanchet's National Honor Society members will be hosting a blood drive with the American Red Cross at Blanchet on Tuesday, November 29. If you would like to donate blood, please contact Stephanie Razmus to get scheduled.
25th Annual Benefit Auction A Success!
Blog
Posts Tagged "Blanchet"
April 21, 2021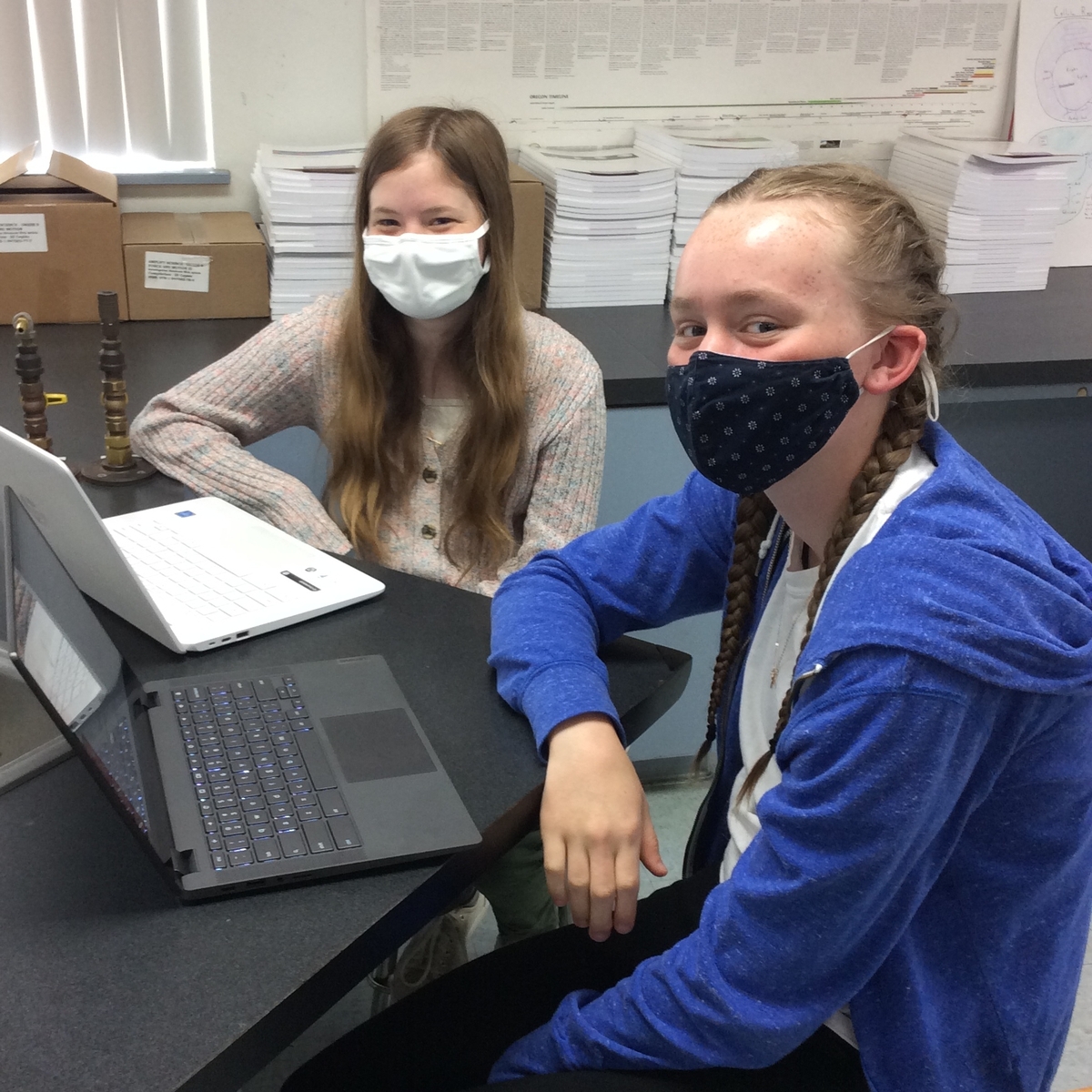 Congratulations to Blanchet's Science Olympiad team who competed on Saturday, April 17, 2021. We were up against 15 other Oregon schools; twelve of whom are 5A and larger.
Blanchet's team finished a respectable eighth of the fifteen teams. Our team had top ten places in twelve of the twenty-one events. A silver medal was earned by Denavae Randall and Sophie Schindler for their second place in Disease Detectives. Denavae and Sophie also finished 5th in the AgriBio event.
The other top ten competitors are:
Jackson Mucken and Max Quintero 6th in Ornithology;
Logan Day and Tanveer Singh 6th in Digital Structures;
Ben Alley, Rieve Randall and Tanveer Singh 7th in Experimental Design;
Holden Prine and Max Quintero 7th in Circuit Lab;
Logan Day and Aliya Suri 8th in Forensics;
Emma Lutz and Sam Richards 8th in Fossils;
Logan Day and Aliya Suri 8th in Chem Lab;
Diego Diaz-Diaz and Hannah Estrabo 8th in Sounds of Music;
Diego Diaz-Diaz and Hannah Estrabo 8th in Designer Genes;
Holden Prine, Max Quintero, and Rieve Randall 10th in CodeBusters.
This was a great showing for a team made up of mostly first time competitors with everyone placing at least tenth or better in one or more events. The team was coached by Mr. David Shultz. We'd also like to thank Mrs. Churchill for helping with this year's team and supervising on Saturday.
Science Olympiad functions much like an athletic team, requiring preparation, commitment, coaching and practice throughout the year. Each school-based team is allowed to bring 15 students who cross-train for a variety of events in their skill set allowing for an apprentice and mentoring system.
Science Olympiad competitions are like academic track meets, consisting of a series of team events in each division (Division B is middle school; Division C is high school). Each year, a portion of the events are rotated to reflect the ever-changing nature of genetics, earth science, chemistry, anatomy, physics, geology, mechanical engineering and technology. By combining events from all disciplines, Science Olympiad encourages a wide cross-section of students to get involved. Emphasis is placed on active, hands-on group participation. Through Science Olympiad, students, teachers, parents, principals and business leaders bond together and work toward a shared goal.
For more information about Blanchet's Science Olympiad teams, please look up Science Olympiad on our Club Web page
by clicking here!