25th Annual Benefit Auction A Success!
Blog
Posts Tagged "youth"
April 07, 2021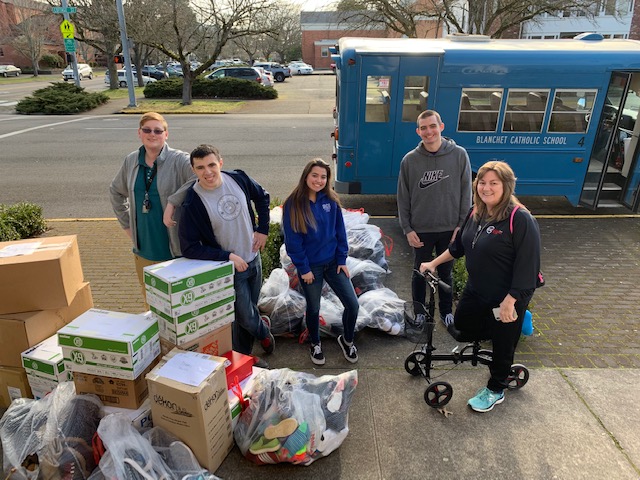 Middle school teacher Sherrie Bashaw was selected to receive the City of Salem's Youth Achievement Award from Salem Mayor Chuck Bennett and the Salem City Council. The award recognized Sherrie's volunteer service with the 1000 Soles/Shoe Battle of the Schools Shoe Drive. Sherrie was honored during the November 23, 2020 City Council meeting when they hosted an award ceremony for local volunteers. She and one of her students were personally presented the award from Mayor Bennett.
Sherrie and her Leadership classes have worked tirelessly to help local homeless youth find shoes through 1000 Soles/Shoe Battle of the Schools Shoe Drive. Over the past three years, the Blanchet Catholic School community has brought in over 2,700 pairs of shoes for the organization. Also over the past three years, Blanchet Catholic School has won the Shoe Battle of the Schools trophy.
Laurie Shaw Casarez, the Youth Development and Prevention Coordinator with the City of Salem, said this about Blanchet Catholic School's impact on local homeless youth, "Thank you in a huge way for your heart to help your peers in this community. Particularly kids who just need a decent pair of shoes on their feet every year. Thank you from the bottom of my heart. You inspire me."